We're thrilled to share that our newest residential development in Qawra, Seaberry Park, has been launched.
We understand that imagining your dream home can be tough when looking at an empty property or floor plan. But don't worry, we're here to help. Let's delve into life in Qawra, the properties at Seaberry Park, and how they can look once furnished.
The Properties at Seaberry Park
Seaberry Park, GAP's latest development in Qawra, is located just a few steps away from the seafront. The development offers a range of one and two-bedroom maisonettes, apartments, and penthouses with private terraces or ground-level patios.
Residents can expect high-end finishes, spacious open plans, and a large communal courtyard. Moreover, they can enjoy the nearby cafes, bars, and restaurants, as well as easy access to the beach, the vibrant hub of Bugibba, and the National Aquarium.
Situated in an ideal location, Seaberry Park is not only a fantastic place to live but also a smart investment for rental opportunities. This exciting development offers the best of both worlds – a great home and a savvy investment.
We've prepared some renders of two typical apartments for you to check out. Additionally, you can view our walkthrough for a more well-rounded picture.
Apartment Interiors by Expert Designers
Designed by the design experts at Olivia Ann Calleja, the apartments were carefully crafted to create a natural and harmonious atmosphere, ensuring a seamless flow throughout the space. The designs maximise the available area, making the apartments feel open, spacious, and incredibly comfortable.
To achieve a timeless appeal, the designers opted for light, neutral colours as the base for each apartment setup. The neutral backdrop serves as a perfect foundation for the residents to express their unique tastes and bring out their individuality in every room.
The goal is to make every resident feel a strong sense of ownership and pride in their living space. This allows the new owners to have a blank canvas to work with, enabling them to infuse their own personality, style, and preferred colour schemes. By allowing personalisation and customisation, the apartments at this development become not just houses but homes that reflect the distinctive essence and preferences of each resident.
Furthermore, the thoughtful design and use of neutral colours ensure that the apartments maintain an air of elegance and sophistication, creating an inviting and relaxing atmosphere for residents and visitors alike. The result is a place where comfort, style, and individuality come together to form the perfect living space to call home.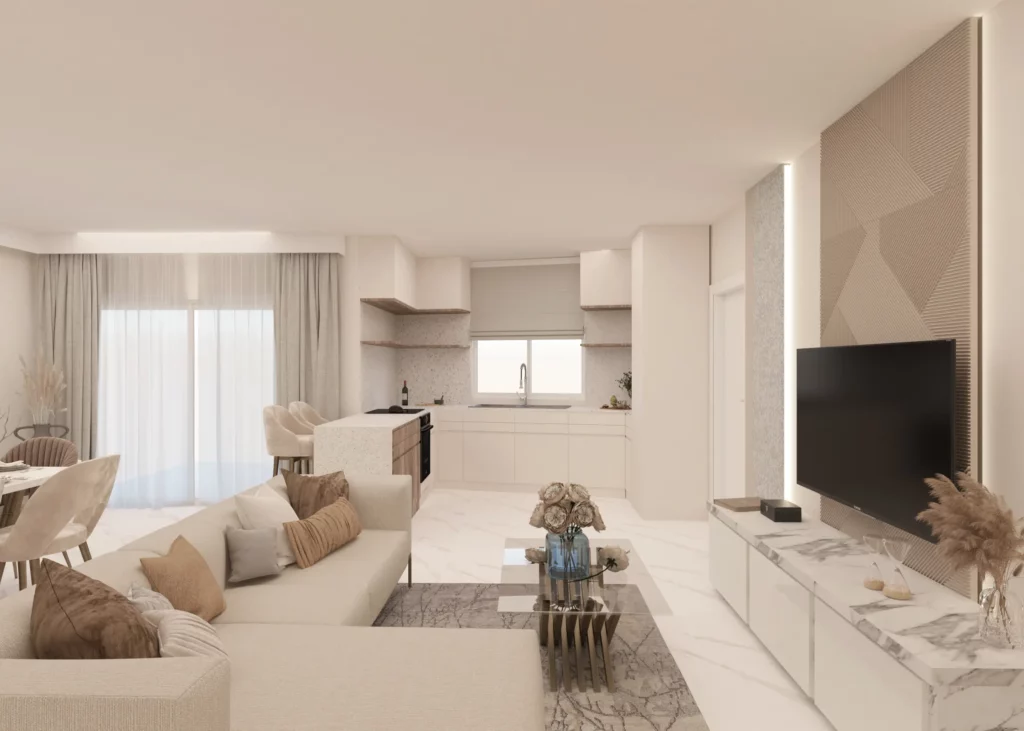 A Glimpse into Life in Qawra
Qawra, once a quiet fishing village, has transformed into Malta's vibrant coastal resort, loved by locals and travellers alike. It seamlessly blends with Bugibba and St. Paul's Bay, making it hard to distinguish where one ends and the other begins.
Prepare to be awestruck by the lively waterfront, bustling with hotels, shops, clubs, bars, and restaurants that cater to every taste. But it's not just the atmosphere and attractions in Qawra that lures visitors – nature lovers will find plenty to revel in too!
The coastline is worth exploring, featuring the tranquil Qawra Point Beach, perfect for swimming, sunbathing, and snorkelling. Additionally, there are plenty of other rocky beaches along the waterfront between Qawra and Bugibba.
Points of interest include the Salina Nature Reserve, renowned for birdwatching, and the Malta National Aquarium, offering an unforgettable experience. Car enthusiasts can visit the Malta Classic Car Collection, boasting over 100 vintage cars. For outdoor relaxation, Kennedy Grove Park provides a beautiful setting with picnic areas and playgrounds.


With all amenities within walking distance, from supermarkets to pharmacies, you'll find convenience at every corner. When the sun sets, you can head to the legendary Cafe Del Mar beach club, which transforms into a nightclub after dark. And if you're feeling lucky, The Oracle Casino is the place for thrilling poker games and live sports gaming.
Offering the perfect combination of serenity, comfort, and enjoyment, Qawra is an ideal place to live in.
Book a Viewing
Your future home or rewarding investment awaits. So schedule your visit to this stunning development in Qawra or call on +356 2327 1000. We look forward to welcoming you at Seaberry Park!
News & Insights