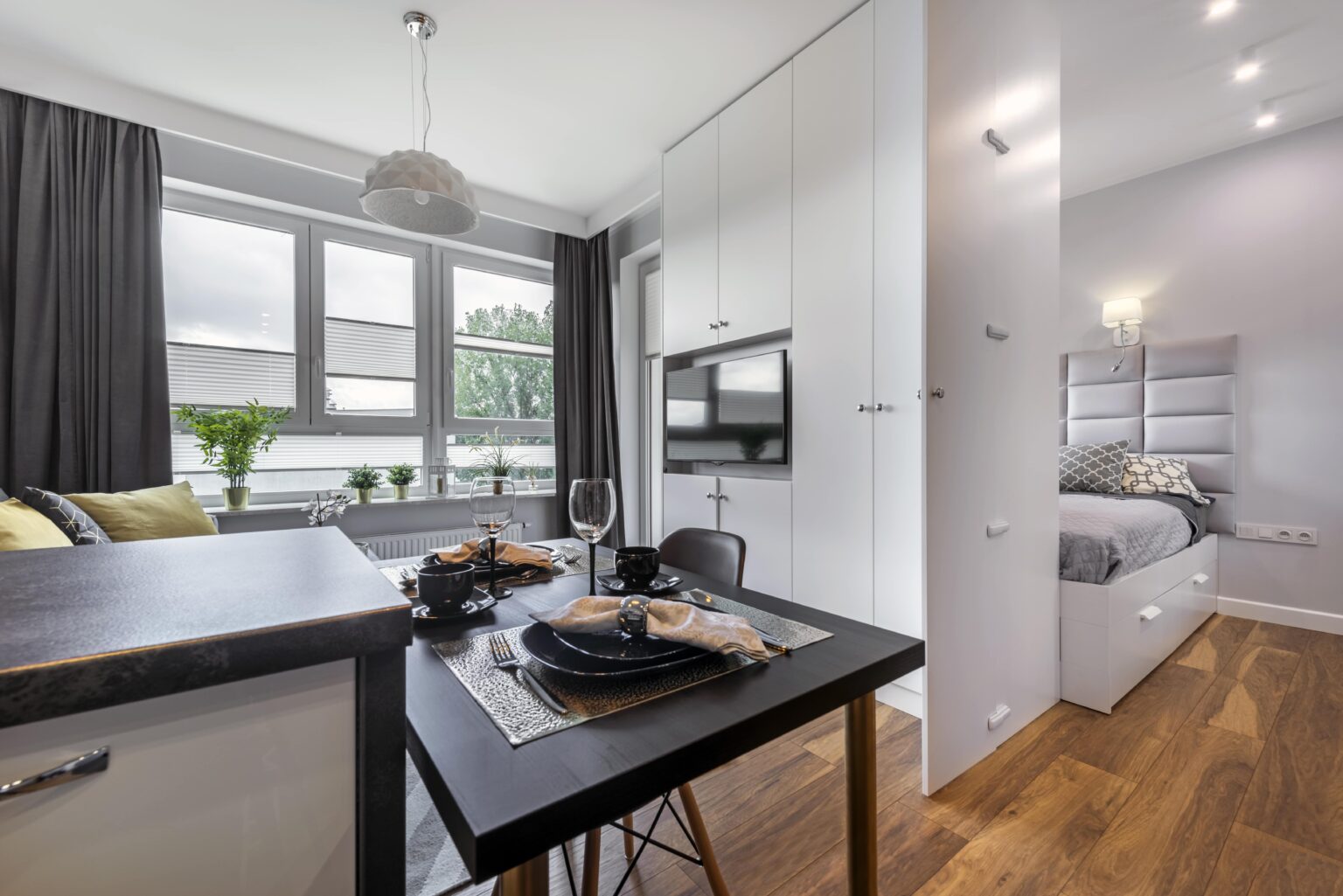 Good interior design can make a world of difference in your home, especially if you are constrained in terms of space. The key thing to keep in mind when working with small spaces is to be resourceful with the square meterage that you have available. Here are fifteen interior design tips to maximise small spaces in your home;
Kitchen
1. Use Magnetic Strips
Magnetic strips are a great interior design tip for maximising space on your kitchen countertops. Keep your knives and other stainless steel utensils out of the way by sticking them on your wall.
2. Maximise Open Wall Space
Store pots, pans and light appliances on floating shelves. You can also consider using a pegboard or a rack to hang coffee cups and other loose items from.
3. Think Carefully About Colour
Light, bright colours are the way to go in a small kitchen. You can use your countertops to add in a pop of colour should you wish.
Living Room
4. Get Those Legs Out
A great interior design tip for maximising the space in a small living room is choosing furniture with exposed legs. You can couple this with seating without arms to enhance the open feel.
5. Mount Your TV on the Wall
Do away with the need for a TV table or wall unit by mounting your TV on your living room wall.
6. Think Strategically About Storage
Maximise floor space by doing away with bulky storage pieces. Use floating shelves or a built-in bookcase instead. Also consider multipurpose furniture pieces that can be, for instance, both a seat and a storage solution, such as an ottoman.
Bedrooms
7. Use Multifunctional Furniture
A headboard with built-in bookshelves, or a bed frame that incorporates drawers, are both clever interior design solutions for maximising a small bedroom space.
8. Make It Float
Replace conventional nightstands with floating shelves, or do away with shelves and nightstands entirely and simply hang two wall sconces on either side of your bed to use as your bedside lighting!
9. Consider a Wardrobe Wall
It might come at significant expense, but consider using a wardrobe wall in your bedroom to maximise space. Wardrobe walls are shallow in depth, yet run the whole length of a bedroom wall to create a cosy feel while adding storage space and taking up a minimal area of the floor plan all at once.
Bathrooms
10. Use the Space over the Toilet
A little shelving unit that fits neatly over your toilet is something to think about, as is a heated towel rail for storing your towels out of the way.
11. Pedestal Sink/Floating Vanity
A pedestal sink or floating vanity sink are both excellent for making the most of a small floor space in a bathroom. Having one of these kinds of sink will give you additional space for placing wash baskets.
12. Install a Pocket Door
A pocket door is a door which slides into a wall, as opposed to swinging inwards into your bathroom like a conventional door would. This is an awesome little trick to maximise bathroom space.
Outdoor Spaces
13. Grow a Vertical Garden
If possible, use walls to grow plants upwards to save as much floor space as possible. Not only will a vertical garden along a wall of your outside space look fantastic, it'll do wonders for your sense of wellbeing.
14. Solo Bench – With Accessories!
A small solo bench will hardly take up any space, and can be dressed up beautifully with an ottoman or two, and pillows, when you're having guests over.
15. Bistro Table
If you intend to do some al fresco dining in your small outdoor space, consider going for a bistro table. Not only will it look super chic, but it can fold away and take up a minimal amount of space.
We hope these interior design tips will help you out when you're ready to furnish your new home.
GAP Homes – Malta Properties with Efficiency in Mind
GAP homes are designed with your needs in mind and incorporate well-thought out interior design, so every home makes the most of space and provides maximum storage.
Take a look at our current developments here and if you'd like to contact us feel free to do so.
News & Insights